Welcome To The Good Shepherd Catholic Church in Russellville, AL Website.
Jesus says, "I am the Good Shepherd.....I am the gate for the sheep.....Whoever enters through me will be saved, and will find pasture."
IMPORTANT ANNOUNCEMENT:
DUE TO THE COVID-19 OUTBREAK, ALL MASSES AND PUBLIC EVENTS ARE CANCELED UNTIL FURTHER NOTICE
CONFESSIONS WILL BE HELD FRIDAY EVENINGS AT 7 PM IN THE PARISH HALL AND ALL PRIVATE MASSES WILL BE PUBLISHED ON YOUTUBE HERE
THANK YOU FOR CONTINUING YOUR SUPPORT OF THE PARISH DURING THIS DIFFICULT TIMES, THE LINK FOR ONLINE DONATIONS IS LISTED BELOW AS WELL AS ON OUR DONATIONS PAGE.
GOD BLESS YOU ALL AND STAY SAFE AND KNOW THAT WE ARE PRAYING FOR YOU!
Please donate to our parish online giving at https://giving.parishsoft.com/app/giving/gsrussellville
Mass Schedule
Spanish
| | |
| --- | --- |
| Tue | 7:00pm |
| Fri | 7:00pm |
| Sat | 6:00pm |
| Sun | 1:00pm |
English
| | |
| --- | --- |
| Mon | No Mass |
| Tue | No Mass |
| Wed | 8:30am |
| Thu | 7:00pm |
| Fri | No Mass |
| Sat | No Mass |
| Sun | 11:00am |
Bilingual
All Services
Parish Bulletin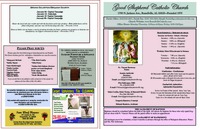 Jan 16, 2020
January 12, 2019
Upcoming Events
Jun. 1, 2020

10:00am - 12:00pm

Good Shepherd

Good Shepherd Outreach Program

Jun. 1, 2020

10:00am - 12:00pm
Good Shepherd

Jun. 3, 2020

6:00pm - 7:00pm

Good Shepherd

Catechism

Jun. 3, 2020

6:00pm - 7:00pm
Good Shepherd

Jun. 4, 2020

6:15pm - 7:15pm

Good Shepherd

Bible Study (English)

Jun. 4, 2020

6:15pm - 7:15pm
Good Shepherd

Jun. 5, 2020

7:00pm - 9:00pm

Good Shepherd

Grupo De Oracion

Jun. 5, 2020

7:00pm - 9:00pm
Good Shepherd
More Events